Opus 22 rendering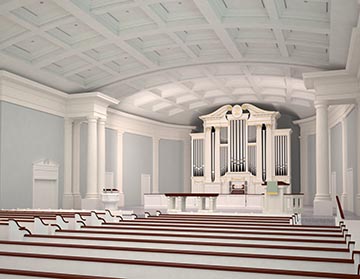 March 2016
After a reasonably mild winter the Tennessee River Valley has ushered in an early spring with blossoms, flowers, and trees in full bloom. This week delivered the first temperatures above 80 degrees.
We have continued to enjoy the additional space of our new expanded shop. The flexibility and breathing room has proven very helpful in enhancing the workflow in each area of the shop. With a 59 stop organ underway the additional space has made our biggest project to date much more manageable and efficient.
The work on Op. 22 is going very well. We are currently preparing the case for painting and finishing while the key and stop action are moving forward. The pipework is complete so we're in the final push to prepare the instrument for delivery to Village Presbyterian in early summer.
Some work has also begun on Op. 23, our next project for Calvary Church in Stonington, CT. We look forward to the challenge of a smaller instrument which we hope to deliver in early 2017.
New shop buildings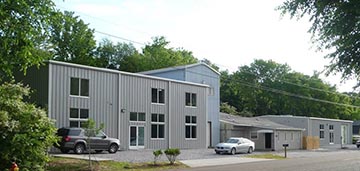 Over the winter we were successful in adding a couple of new craftsmen to our workforce. We would like to welcome Jordan Schilleman, a trained and seasoned woodworker. He already looks and acts likes he has been a part of the team for many years. Derrick Phillips has also recently joined the staff and is also a talented woodworker with expertise in finishes as well. Both of these gentlemen hit the ground running and are making an immediate and valuable contribution to the company. The expanded shop has allowed us to continue to grow the staff. We continue to recruit additional craftsmen to join the crew at Richards, Fowkes & Co.
Be sure to friend us on Facebook and keep up to date with more of the day-to-day activity in the shop.
New recordings…
Rcently, there have been three new releases of recordings on our instruments. Thanks to each of the artist for their contributions to the discography of our organs. The links to each of the recordings are listed below.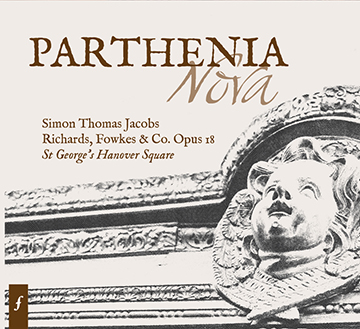 A special thanks to Simon Thomas Jacobs for his recording on the organ at St George's, Hanover Square, London. The recording and the instrument are garnering some great reviews!