Dramatis Personæ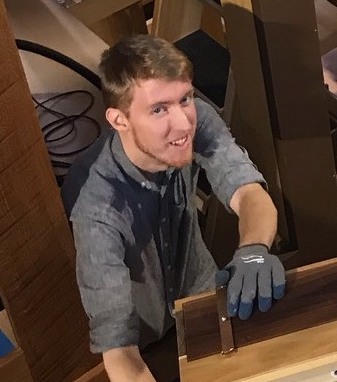 Jakob Barger • 2018

Trent Buhr • 1997
Trent was born in Iowa, started formal piano lessons at the age of 4, and competed in his first concerto competition at age 13. He received a degree in architecture with a special emphasis in Historical Restoration and Preservation from Iowa State University. During his college studies he studied the carillon and became a member of the Guild of Carillonneurs in North America. From an early age he was fascinated by pipe organs and was given the opportunity to apprentice with John Brombaugh and Assoc. in Eugene, OR, learning pipe making and voicing. He then rounded out his knowledge by working for Manuel Rosales in Los Angeles for 2 years. He was self-employed, restoring 2 organs and a concert harp, until moving to Chattanooga in 1997. He spent several years in the pipe shop working with all aspects of pipe making. Currently he is responsible for design and execution of case decoration, from pipe shades to wood graining and gilding. He also works on interior details such as placement and winding of those pesky 'leftover' pipes. Outside of the shop, the bulk of his time is devoted to renovating an old house and restoration of fine furniture.

Nathan Govig • 2016
Nathan is originally from Rockford, Illinois Nathan and grew up in Chattanooga. A graduate of Chattanooga Woodworking Academy, he has explored woodworking through everything from log home building to designing and building fine furniture. Since starting organ building during his final year at CWA, he has learned to appreciate the complexity and beauty unique to pipe organs and is enjoying the opportunity to be involved in all woodwork that goes into an organ. When not at work or in his home shop, he loves hiking and catching an occasional local concert.

Alex Haas • 2017
Alex has one of the more round-about ways of becoming a member or Richards, Fowkes & Co. He is a native of Brocton, NY, a small town located between Erie, PA and Buffalo, NY. Graduating in 2011 with a Bachelor of Science-Environmental Science from Allegheny College he moved to Boyd, TX where he interned, and later worked as a keeper at the International Exotic Animal Sanctuary. Deciding that building things with his hands was more exciting than taking care of lions and tigers, he changed fields to carpentry/woodworking and moved to Fort Worth, TX where he met his (now) wife Caitlin. They decided to leave Texas in search of mountains, forests, and more outdoor opportunities, arriving in Chattanooga, TN in July 2015. After a variety of woodworking jobs in the Chattanooga area, Alex sought the highest level of craftmanship he could and joined RFC in February of 2017. When you can't find him in the shop building casework, welding, or finishing our Opus 24 (literally applying the finish, we're all trying to FINISH Op. 24), he'll be out on a soccer field, on a hike with his dogs and wife, climbing rocks, or in a basement playing Dungeons and Dragons.

Joshua Knight • 2018
Joshua began musical training with piano lessons around age eight and within a few short years was playing hymns for his small hometown church in Auburn, AL. Having a love of all things mechanical and musical, he began learning to tune pianos in high school. After high school, providence and a childhood fascination with the pipe organ led him to study with Judy Glass at Southern Adventist University. In addition to working at Richards, Fowkes & Co, Joshua is organist at Lookout Mountain Presbyterian Church and enjoys frequent accompanying opportunities in the community.

Rick Mcusic • 2018

Brian Miscio • 1998
A native of Pittsburgh, PA, Brian moved to the Chattanooga area at the age of 14. He studied classical guitar under Dr. Mario Abril at the University of Tennessee at Chattanooga, graduating in 1997 with a Bachelor of Music degree. He began at Richards, Fowkes & Co. in April of 1998 with Opus 7, initially focusing on pre-voicing and cabinetry. Throughout his tenure, he has continued to take on more responsibilities, namely building key systems throughout the organ, such as wind chests and swell boxes, as well as more delicate tasks like pedal boards and inlay. As a trained musician, Brian is grateful for the unique opportunity to channel his musical intuition into both construction and performance. Brian is married to Kara, a pianist and teacher, and the couple have a daughter, Nicolina Rose.

Nate Perry • 2004
Nate Perry came to Richards, Fowkes & Co. in the spring of 2004 after working for Andover Organ Co. and Barger & Nix. Nate is known as the jack of all trades in the shop AKA 'monkey' and does anything that needs to be done. He is primarily an apprentice case builder. Nate's father works for Andover, and his sister works part time there as well. His older brother Nicholas worked for C.B. Fisk until his death in 2002. He and his wife live out in the 'sticks' of Tennessee and they love spending time with their four dogs as well as being active in his church youth group. Above all Nate loves the wood working aspect of organ building and the challenges that it brings. He is excited about learning more about the craft and being more proficient in the future years.

Ralph Richards • 1988
Ralph grew up on a dairy farm in Wisconsin. At the age of 15 he started organ lessons with Byron Blackmore, and on the recomendation of Jim Christie, also a student of Blackmore, he studied organ and harpsichord performance with Bill Porter and Lisa Crawford at Oberlin College. While there Ralph became friends with the Brombaugh shop, then located in Germantown, OH. After a short apprenticeship with Brombaugh in Eugene, OR, he and Paul Fritts started their company in Tacoma, WA. After 9 years of work they went separate ways, and Ralph began his partnership with Bruce Fowkes.

Patrick Spiesser • 1992
Patrick Spiesser is from Alsace in northeastern France. In 1977 he started as an apprentice in a carpentry and cabinet shop (Menuiserie Krieger, Duntzenheim, France). After two years he passed the test and became a journeyman. He spent two years at Alfred Wild, Facteur d'Orgues, in Gottenhouse, France. In 1981 he moved on to Manufacture d'Orgues Koenig in Sarre-Union, France. After two years he passed the journeyman test in organbuilding. From 1990 to 1991 he worked on the design, manufacture and presentation before a jury of organ builders, of his masterpiece: a four stop house organ. In 1993 he finished the last test for his diploma and on October 29th 1993 received the title of master organ builder (Maître Facteur d'Orgues). The ten years at Koenig included many restorations of old organs as well as the building of new instruments and maintenance. In October of 1991 he moved to the USA and started working at Richards, Fowkes & Co. at the end of December. He works in all aspects of the trade.

Dean Wilson • 1991
Dean Wilson is originally from Leeds, England where he apprenticed and worked with FJ Rogers for 7 years before joining JW Walker for 4 years becoming pipe shop foreman. In January 1991 he joined Richards, Fowkes & Co. to become head pipe-maker and has been involved in the production of all metal pipes for the company. Dean is active with youth soccer as Director of Coaching of a local association and if he is not on a soccer field then he will probably be on a stool in one of the local bars.

Andy Wishart • 2004
Andy is one of our fully qualified pipemakers. Before joining our company in the fall of 2004 he lived in Leeds, England where he worked for FJ Rogers for 20 years. He is trained in all aspects of pipemaking and has gained a worldwide reputation for his work. Andy coaches soccer for Chattanooga FC Academy and is enjoying his new life in the Tennessee Valley. He is proud that his son Callum attends the University of the South, Sewanee, Tennessee. Callum is now a sophomore and the kicker on the football team.